MacBook Air Evolving Into Mainstream Product?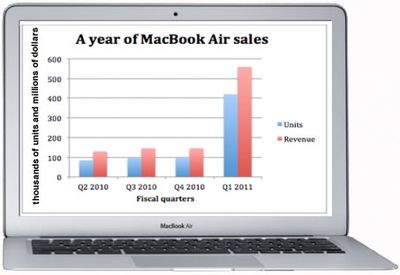 Graph from
Fortune
A new research note by J.P. Morgan's Mark Moskowitz reveals that Apple's MacBook Air has seen significant sales growth since its most recent refresh in October (via
AppleInsider
and
Fortune
). MacBook Air sales in the last quarter were 333% higher year over year with projections of annual revenue of near $2.2 billion. The new MacBook Air
adopted
an SSD-only design, introduced an 11.6" model, and saw a considerable price drop from the previous models.
"We believe that the growth rate of the MacBook Air stands to moderate, but we expect the product to exhibit increasing contribution to the overall Mac business," Moskowitz wrote. "(The fourth quarter of calendar 2010) was the first quarter in which the MacBook Air accounted for greater than 10% of total Apple Mac units. More importantly, the MacBook Air accounted for 15% of total notebook sales during the quarter, versus 5% in the prior year."
The MacBook Air was originally released in January 2008 as a 13" model only with a starting price of $1799. While Apple has offered slight improvements and price drops in the interim, October's refresh was the most dramatic overhaul of the ultra-portable with the introduction of an 11.6" model that starts at $999.