Apple Sets 2Q 2011 Earnings Release for April 20th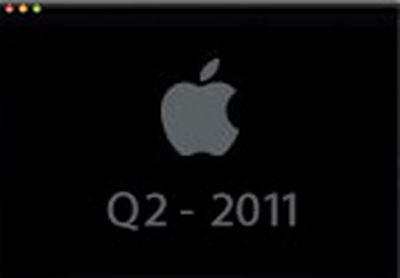 Apple yesterday updated its investor relations page to officially state that it will announce its earnings for the second fiscal quarter of 2011 (first calendar quarter) and host a conference call regarding the release on Wednesday, April 20th.
Apple plans to conduct a conference call to discuss financial results of its second fiscal quarter on Wednesday, April 20, 2011 at 2:00 p.m PT.
The conference call at 5:00 PM Eastern / 2:00 PM Pacific will follow the earnings release itself which typically comes around 4:30 PM Eastern.
Apple last quarter announced record-breaking results in a number of areas, including $6 billion in profit on revenue of $26.74 billion. The company also sold record numbers of Macs, iPhones, and iPads. For the second fiscal quarter, Apple has issued guidance of $22 billion in revenue with profits of $4.90 per share.