WWDC 2011 Set for June 6th-10th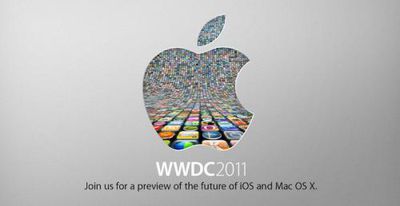 Apple today
announced
that it will hold its annual
Worldwide Developers Conference
(WWDC) from June 6th-10th at the Moscone West convention center in San Francisco. Conference passes are on sale now for $1599, and are expected to sell out quickly given past years' trends.
"At this year's conference we are going to unveil the future of iOS and Mac OS," said Philip Schiller, Apple's senior vice president of Worldwide Product Marketing. "If you are an iOS or Mac OS X software developer, this is the event that you do not want to miss."
Apple notes that it will hold over 100 technical sessions for developers, with over 1,000 Apple engineers on hand to provide support for attendees.
Apple unsurprisingly is billing the event as being for both iOS and Mac OS X developers equally, following last year's conference that saw a heavy emphasis on iOS development. Mac OS X is of course set to receive greater prominence this year due to the impending release of Mac OS X Lion.
The dates for WWDC 2011 do in fact nearly correspond to a "corporate meeting" discovered on the Moscone Center's event calendar in early February and suspected of representing the conference. The dates also match with a tentative multi-year convention calendar published by the San Francisco Convention and Visitors Bureau in April 2010.