WWDC to Fall on June 5-9th, 2011?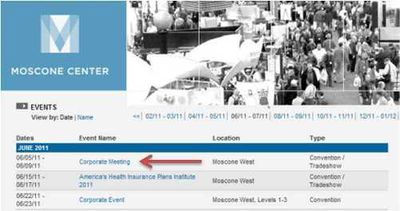 Originally spotted
by AppleBitch.com
, the possible dates for WWDC this year appear to fall between June 5th and 9th. The
Moscone events
page shows a "Corporate Meeting" in Moscone West occupying those dates. In the past, such listings have predicted Apple's WWDC event, but not with complete accuracy. Last year, Apple's actual WWDC dates
did not fall
on the
predicted
dates.
What is interesting is that the dates do correspond with tentative leaked dates from a San Francisco Convention and Visitors Bureau PDF. Those dates included:
Tentative WWDC Dates:
2011: June 5th - June 10th
2012: June 10th - June 15th
2013: June 9th - June 14th
2014: June 1st - June 6th
2015: June 7th - June 12th
With the rise of iOS and Apple's withdrawal from Macworld Expo, WWDC has become a major event for Apple each year. This year, Apple is expected to feature Mac OS X Lion prominently.