Apple Backs Out of Plans for Grand Central Terminal Retail Store
Last month, reports indicated that Apple was seeking to open a new retail store in Manhattan's landmark Grand Central Terminal, with one report suggesting that the store could be Apple's largest yet.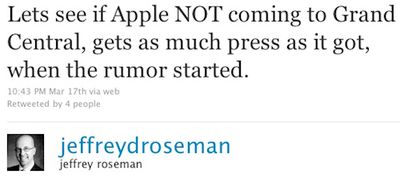 But according to a
new report
from
The New York Observer
, Apple has backpedaled from those plans in the face of logistical issues and other constraints.
Apple's plans to bring the world's largest iStore to Grand Central always seemed to defy laws of taste, landmarks preservation and possibly even physics.
Apparently, Apple has reached the same conclusion, because an anonymous source close to the M.T.A. has confirmed that the company has backed out of plans to bring computers to commuters in an 16,000-square-foot store on the balconies of Grand Central's main terminal.
The report notes that the cancelation was teased last week by real estate broker Jeffrey Roseman, although the move was confirmed by sources reporting to The New York Observer.