Apple Seeking to Build New Retail Store in Manhattan's Grand Central Terminal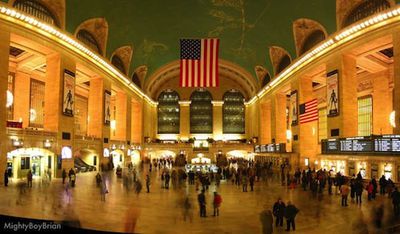 Grand Central Terminal's Main Concourse
A pair of reports from
The New York Observer
and
ifoAppleStore
indicate that Apple is looking to open a new retail store, its fifth in Manhattan, at the landmark Grand Central Terminal. The store would reportedly be located inside the busy transportation and tourist hub and would sit less than a mile from the company's flagship Fifth Avenue store.
Apple has begun a super-secret quest for a store in historic Grand Central Terminal, potentially creating a hive of buzzing techies in the glamorous Beaux Arts landmark.
Reliable sources tell The Observer that the maker of ubiquitous iGadgets - from computers to cell phones - hopes to open a store in the transportation and retail hub, though it has yet to begin the long approval process necessary for opening in a city landmark.
ifoAppleStore notes that Apple is keen to open the store not only for its location in the historic and highly-trafficked building, but also to relieve pressure on the busy Fifth Avenue store that, despite its relatively small size, outsells the company's other three Manhattan stores combined.
Today, the terminal hosts 700,000 visitors a day, most hurrying to trains and the city's busiest subway stop. But another 250,000 visitors a day pass through the expansive Vanderbilt Hall, the station's original waiting room that is now rented out for special events.
The 134,000 square-feet of retail space includes 68 shops and 35 restaurants, some on the main concourse level surrounding Vanderbilt Hall, and others on the balcony level just below. Current major tenants include Banana Republic, Kenneth Cole and a Michael Jordan Steakhouse in about 6,000 square-feet of space each, and many other tenants in less than 1,000 square-feet. The historic Oyster Bar restaurant in on the lower level, along with a fresh food market.
Negotiations appear to still be in the early stages and will likely take quite some time to complete, but the location could provide an interesting opportunity for Apple to fit its brand into one of the most iconic transportation hubs in the world.