Netflix Grabs 61% of U.S. Digital Movie Market, Apple at 4%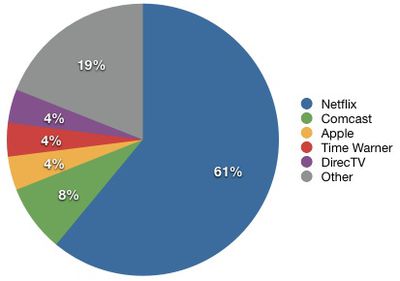 U.S. digital movie unit share for January-February 2011 (NPD)
Last month, we
reported
that Apple was dominating the market for individual download and streaming movie content in the United States, representing nearly 65% of total spending. We noted at the time that the survey did not include streaming services such as Netflix and on-demand streaming offerings from cable companies, but
new data from NPD
on the broader market now puts those omissions into context.
According to NPD's data, Netflix represented 61% of movies downloaded or streamed in the U.S. during January and February, easily topping second-place Comcast at 8%. Apple finished in a three-way tie for third at 4% with Time Warner Cable and DirecTV.
NPD also compared consumer-reported satisfaction with four modes of digital-video acquisition: electronic sell-through (EST), Internet VOD (iVOD), cable VOD, and subscription streaming. Consumers clearly recognize that EST services like iTunes have the most "current releases available," while Netflix streaming gets credit from customers for providing the best "overall shopping experience" and "value for price paid."
According to NPD, digital video now makes up one quarter of the entire home video market in the United States, with customers increasingly embracing the instant and easy access aspects of digital video.