Apple Still Dominates U.S. Movie Downloads and Streaming, But Rivals Growing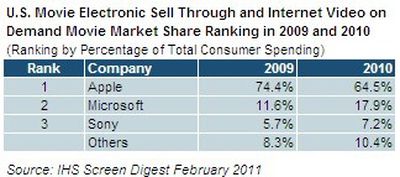 Market research firm IHS iSuppli yesterday
released
data on U.S. online movie downloads and streams for 2010, revealing that Apple continues to dominate the market with a 64.5% share of total spending. That share is down, however, from 74.4% in 2009 in the face of growth of other services such as Microsoft's Zune Video.
"The iTunes online store showed remarkable competitive resilience last year in the U.S. EST/iVOD movie business, staving off a growing field of tough challengers while keeping pace with an dramatic expansion for the overall market," said Arash Amel, research director, digital media, for IHS. "Apple faced serious competition from Microsoft's Zune Video and Sony Corp.'s PlayStation Store, as well as from Amazon and - most significantly - Wal-Mart. However, iTunes managed to grow because of the introductions of the iPad and the second-generation Apple TV, which have spurred the company's movie rental offerings and have invigorated the iTunes multi-screen ecosystem. We expect that in the United States, Apple's strong performance in iVOD will allow it to continue to bypass the video on demand services offered by many major cable operators."
iSuppli reports that the overall market grew 60% in 2010, with Microsoft riding the popularity of its Kinect controller for the Xbox 360 to late-year gains with its Zune Video offerings and Wal-Mart making significant gains with its Vudu service.
The report appears to limit data to services offering individual purchases and rentals of downloadable and on-demand streaming content, omitting subscription-based services such as Netflix that offer unlimited streaming for a flat fee.