iPads in Short Supply as Online Orders Pushed to 3-4 Weeks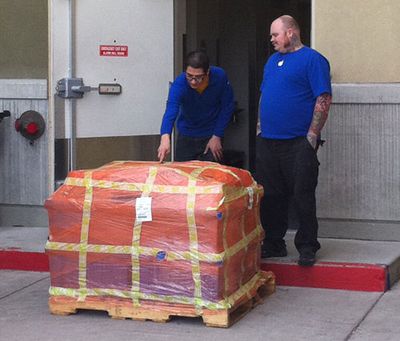 iPad 2s arriving at Apple Store (thanks Caleb)
The iPad 2 launched to long lines on Friday and selling out in many locations. Based on reader reports, there are still pockets of stock in various locations, but a large number of locations are still sold out of the units. Part of the difficulty has been the large variety of models of the iPad 2 available. With 3 different storage capacities, 2 colors and 3 different wireless configurations (WiFi, Verizon, AT&T). Customers may have had trouble finding the exact configuration they wanted.
AT&T/GSM 3G models were in particularly high demand as many of the early purchasers were sending them off internationally to other GSM-compatible countries.
If past launches are any indication, retail stores will get almost daily replenishment of stock. Apple is not providing any online indicators which stores have stock. Meanwhile, BestBuy does have an online system that seems to reflect local store inventory.
Finally, those hoping to pick up an iPad 2 from the online Apple Store will now find that the wait for online orders has extended to 3-4 weeks. Online customers are organizing in this discussion thread to see when shipments are being sent out.