Apple Releases Xcode 4 to Developers, Coming Soon to Mac App Store for $4.99 [Update: Now Available]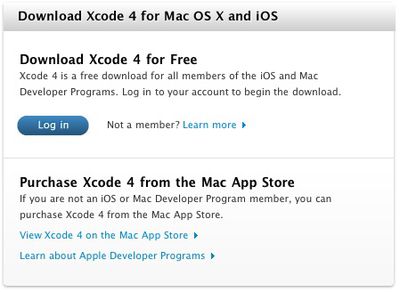 Apple today updated its
Xcode
information page to note that Xcode 4 is now officially available free of charge for all registered members of the company's iOS and Mac Developer Programs. Interestingly, it appears that non-members will have the option to purchase Xcode through the Mac App Store, although the listing does not yet appear to be active. Pricing
appears to be set
at $4.99 for non-members.
Xcode 4 is the new version of Apple's powerful integrated development environment for creating great apps for Mac, iPhone, and iPad. Xcode 4 includes the Xcode IDE, Instruments, iOS Simulator, and the latest Mac OS X and iOS SDKs.
Xcode 4 has a streamlined new interface that integrates UI design, coding, testing, and debugging, all within a single window. The embedded Apple LLVM compiler underlines coding mistakes as you type, and is even smart enough to fix the problems for you automatically.
Apple gave developers the first glimpse at Xcode for at WWDC 2010 last June, and has released a number of updates to the software since that time. Apple seeded a golden master version of Xcode 4 in early February, and followed that up with a revised golden master alongside the iOS 4.3 golden master just last week.
Update: Xcode 4 has now gone live in the Mac App Store.