iPad 2 Launch Details: Data Plans for Verizon and AT&T, Online Ordering, Stand in Line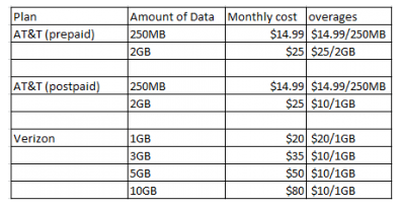 Late last week,
AllThingsD compiled
the data plan pricing for the iPad 2 on both Verizon and AT&T in an easy to read chart.
AT&T is offering the same pre-paid monthly options as on the original iPad for 250MB/$15 and 2GB/$25. If you run out of data in a given month, you can simply pay again a reset the meter. Now, AT&T is also offering a "postpaid" option which charges overages at a set rate (see chart above).
Verizon is offering their own set of choices for data that mirror their iPad 1/Mi-Fi bundles. As with AT&T, there's no long term contract and these can be adjusted or canceled on a month to month basis. Verizon's offers data ranges of 1GB, 3GB, 5GB, and 10GB a month. So, consistently heavy users would do better on Verizon's plans while very infrequent users would save money with AT&T.

The iPad 2 is launching on Friday, March 11th. Apple is
telling customers
that online sales will begin at 12:01 Pacific Time on March 11th, or customers can go to Apple Retail stores at 5 p.m. on March 11th to get one in hand that day. There will likely be long lines for the iPad 2 launch day since Apple is only accepting online orders the day of launch, and standing in line will be the only way to get your hands on an iPad 2 before the following week.