Apple's Media Event to See Introduction of iPad 2, Cloud-Based MobileMe?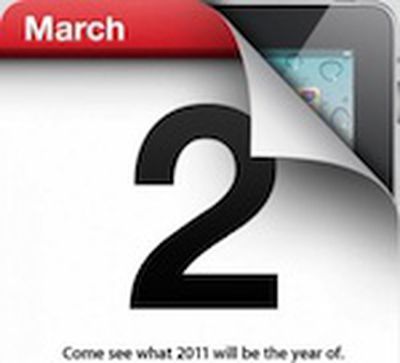 An unveiling of the second-generation iPad at Apple's media event tomorrow has been considered nearly a sure thing ever since the invitation making obvious reference to the device appeared, but what has remained unknown is what other related announcements Apple might make at the event.
Cult of Mac reports that in addition to the second-generation iPad, Apple will also debut its cloud-based MobileMe service tomorrow, allowing users to upload media to Apple's servers and access them from a variety of devices.
The Apple staffer, who asked to remain anonymous for obvious reasons, said the new MobileMe service will store music, TV shows, and films that were purchased from the iTunes store. The staffer also said that there was talk inside Apple of being able to upload all your music and videos to the cloud whether it was purchased from iTunes or not. However, they couldnt confirm whether this will be rolled out or not.
Apple has reportedly been working on a revamp of MobileMe said to involve some cloud-based services, with rumors indicating that at least some portions of the service may become free. Apple also recently discontinued its MobileMe retail boxes, although reports have differed as to whether the change is suggestive of an imminent transition for the service itself or simply an adjustment in the way the service is sold to consumers.
The source of today's report also indicates that the iPad being introduced tomorrow should be considered more of a spec bump of the existing model than a true revamp. A more ambitious revamp is reportedly scheduled for later this year.
The Apple staffer declined to give details about the iPad 2 or 3, but said:
"For the iPad 2 don't get your hopes up too high. That's all I'm going to say. They've had a number of problems along the way, and the third-generation iPad is the one to make a song and a dance about."
A pair of reports from early February suggested that Apple may indeed be planning to launch yet another new iPad later this year, potentially in the September timeframe typically associated with iPod refresh cycles. Additional claims of a more substantial iPad update later this year also surfaced last week.