iOS 4.3 Hitting Golden Master, Public Debut at Next Week's Media Event?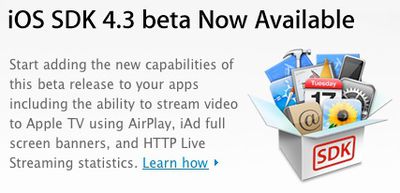 BGR reports
that iOS 4.3 has hit the golden master stage, with Apple reportedly having finalized the next version of the operating system running the company's popular iPad, iPhone, iPod touch, and Apple TV devices.
One of our Apple sources has just informed us that it looks like Apple has finalized the code for its upcoming iOS 4.3 release. The build, we're told, is 8F190 for those keeping track.
iOS 4.3 could make its public debut sometime within the next week, quite possibly at Apple's media event scheduled for next Wednesday. The updated operating system version is set to add such new features as personal Wi-Fi hotspot functionality, enhanced support for AirPlay video streaming, and a software toggle to set the functionality of the iPad's side switch.
Earlier this month, BGR pinpointed the build number of an iOS 4.3 developer seed that appeared just a few hours later.