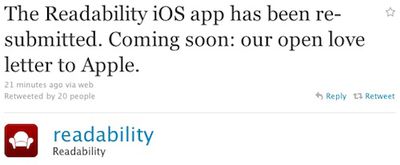 A fair amount of controversy was raised earlier this week when it was revealed that Apple had
rejected an App Store submission
from Readability, the popular subscription service that strips away extraneous content from web articles. The confusion continued when Apple CEO Steve Jobs reportedly
emailed a developer
to say that Apple's in-app subscription requirements were intended for content providers, not software-as-a-service (SaaS) applications such as
Readability
.
It appears, however, that the issues with Readability have been resolved, as a new Tweet from Readability announces that its application has been resubmitted to the App Store and that an "open love letter to Apple" is coming soon.
The Readability iOS app has been re-submitted. Coming soon: our open love letter to Apple.
It is unclear exactly what events have transpired to patch things up between Readability and Apple, although the tenor of the Tweet suggests that it is happy with the outcome. Consequently, it seems that Apple may have reversed its initial decision or at least required only minor modifications on the part of Readability in order for the app to be accepted.
Update: According to Readability, they have not spoken with Apple, and they have no idea if they will approve it.