More Claims of Imminent MacBook Pro Refresh as Supply Crunch Hits Apple's Stores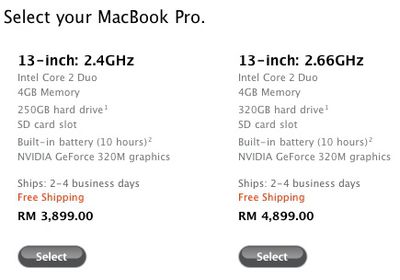 MacBook Pro shipping estimates lengthening in Malaysia
A new series of claims are continuing to point to tightening supplies and an upcoming refresh of Apple's MacBook Pro line, possibly as early as late next week.
The first report [Google translation] from Italian site iSpazio claims that it has received word from an Apple employee that Apple is preparing to launch five new MacBook Pro models carrying order numbers MC720, MC721, MC723, MC724, and MC725. The five new models will reportedly span all three current MacBook Pro sizes of 13-inch, 15-inch, and 17-inch. The new models are also said to be making their way to Apple Italy over the next few days in preparation of a launch "towards the end of this month".
Apple currently offers six standard configurations of the MacBook Pro, with two 13-inch models, three 15-inch models, and a single 17-inch model. It is unclear where a reduction to five total models would be made, although the most reasonable bet might for the 15-inch size to see a drop to only two standard configurations.
Remarkably similar information is being offered [Google translation] by another Italian site, Slide to Mac, causing us to wonder whether the same source claiming to be with Apple Italy has provided information to both sites. This second report's details include claims that Apple's schedule calls for a release on Thursday or Friday of next week and that the update will not simply be essentially a spec bump of the existing models.
Finally, we've been watching supplies of existing MacBook Pro models tighten over the past month, particularly through third-party retailers, but according to Apple Bitch, the squeeze has begun to hit some of Apple's own farther-flung retail distribution points in Asia.
Apparently websites for Apple Stores in several Asian countries have been updated today to reflect longer shipping times for the MacBook Pro. For example, the Malaysian Apple Store updated its website today to show that shipping times for the 13 inch MacBook Pro have slipped from 24 hours to 1-5 days. This is also reflected in other countries such as Hong Kong, Vietnam and Taiwan.
A current survey of some of Apple's online stores in Asia does show shipping estimates bouncing around over the past few days, with many standard configurations showing estimates of 2-4 or 3-5 business days where availability had just recently been pegged at "within 24 hours". Apple's North American and European stores are still showing immediate turnarounds on new orders.
Update: AppleInsider is also reporting that Apple appears to be gearing up for a "significant product launch" as early as next week.