MacBook Pro Supplies Tightening Ahead of Potential Refresh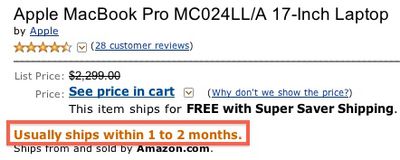 MacRumors
has heard from several sources that supplies of Apple's existing MacBook Pro models, particularly the 15" and 17" sizes, are beginning to run low in Apple stores and at third-party retailers, suggesting that the company may be drawing down stock in advance of an update to the product line. At least one major retail chain has reportedly notified its branches that it has been unable to fulfill replenishment orders, a situation that has been tied to forthcoming product updates in the past.
The 17" MacBook Pro generally appears to be in the shortest supply at the moment, with Amazon quoting a shipment window of 1-2 months for the base Core i5 model and several popular resellers connected through Amazon's systems also showing low stocks of the 17" models. For its part, Apple continues to show "within 24-hour" availability of all MacBook Pro models in its online stores, suggesting that the company may be prioritizing remaining stock to serve its customers directly.
Apple's MacBook Pro has been expected to receive an update in the relatively near future, as the line is due for an revision any time now and sources have indicated that the MacBook Pros would indeed be updated some time in the first half of this year. A new version of the MacBook Pro will almost certainly incorporate Intel's Sandy Bridge microarchitecture and could see the company adopt some aspects of the its successfully revamped MacBook Air in order to improve performance and reduce size and weight.