Verizon iPhone Already Representing 3% of U.S. iPhone Traffic as AT&T Hands Out 1000 Free Minutes
While lines for the public launch of the Verizon iPhone were generally short yesterday, the device had already been making its way into customers' hands through a pre-order program for existing Verizon customers, and many have been wondering just how strong sales of the new device have been.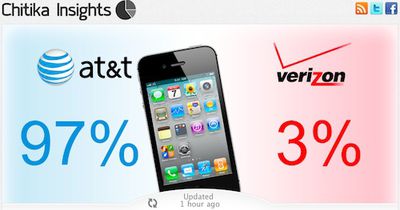 Mobile ad firm Chitika today
announced
that it has put together a
live tracker
showing the relative balance of AT&T and Verizon iPhones showing up on the company's advertising network. The data, which is based on a rolling 24-hour average and is updated hourly, currently shows the Verizon iPhone already grabbing 3% of the U.S. base as measured by the limited study.
We spoke with Chitika's Dan Ruby and asked him if he could come up with a ballpark figure of the number of Verizon iPhones that might already be in circulation. Such an estimate would of course be based on a number of guesses and assumptions, including the percentage of iPhone sales occurring in the U.S., the percentages of phones of given ages still in operation, and even just how representative Chitika's data is of iPhone usage as a whole. But given those constraints and understanding the likelihood of a significant margin of error, Ruby offered an estimate in the range of 900,000 Verizon iPhones currently in use.

While Verizon is continuing to grow its base of iPhone users from scratch, AT&T has continued its push to retain its iPhone customers with a new initiative of its own.
According to 9 to 5 Mac
and
AppAdvice
, AT&T has started sending text messages to some iPhone users offering them 1000 free rollover minutes in appreciation for their business. Customers can accept the offer by responding "YES" to the 11113020 number from which the text message comes. A number of users have reported success simply sending "YES" to that number without having received the text message, although the confirmation text notes that it can take up to four weeks for the bonus minutes to be credited to customers' accounts.