Verizon iPhone Launches to Short Lines, Cold Temperatures
Last night, we noted that lines were beginning to form for the Verizon iPhone, which went on sale this morning at Apple and Verizon retail stores, as well as Best Buy and select Wal-Mart stores. But in the light of morning, lines are short in many locations, particularly at Apple stores.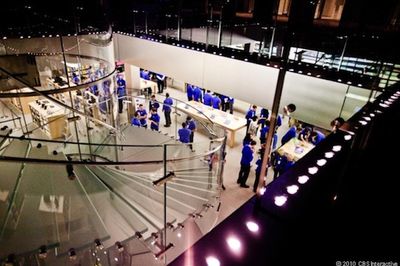 Apple's flagship Fifth Avenue store in Manhattan (Source: CNET)
With much of the country seeing frigid overnight temperatures, some shoppers may have opted to not stand in the cold while others may have taken advantage of home delivery options for the device, but lines still seem much shorter than expected.
CNET
is running a
live blog
with staffers in both New York City and San Francisco, and flagship Apple stores in both locations saw nearly no line ahead of early openings at 7:00 AM local time.
New York 6:50 a.m. ET: It's 18 degrees here in New York City, and there are now eight people in line at the Fifth Ave. Apple store. Queens resident Akira Sawada, 32, is first in line--he arrived at 5 a.m. There are more Apple employees inside the Apple store than there are outside.
New York 7:07 a.m. ET: People are in the Apple store. The line of about 10 people was quickly ushered in at 7 a.m. We are now waiting to talk to people who are walking out of the store.
A similar situation was seen in San Francisco, where cold temperatures couldn't be blamed for low turnout. According to CNET, only two people were in line at Apple's Stockton Street flagship store just minutes before opening, with "literally more Apple Store employees, police officers and reporters--each--than people in line to buy iPhones."
We've received sporadic reports of significantly longer lines at some Verizon stores, but still nowhere near what many had expected.