Verizon iPhone Launch: Lines Forming
The Verizon iPhone finally launches in-stores on Thursday, February 10th at 7 a.m. Since this is essentially the same iPhone that has been on the AT&T network since last year, we don't expect there to be nearly as long a line for the original launch. Still, it seems some people aren't taking any chances.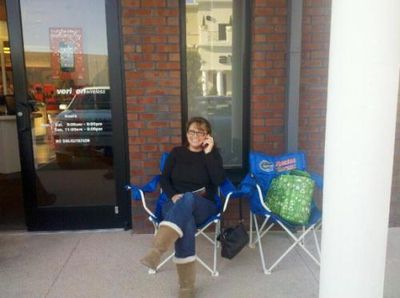 The
Orlando Sentinel posts
a photo of the first person in line at a Florida Verizon Wireless store.
Marcia Caldwell parked her chair outside the Verizon Wireless store in Winter Garden shortly after 4 p.m. Wednesday -- 15 hours before she can buy Verizon's new iPhone 4.
Caldwell is presently on an iPhone 3GS with AT&T and will be switching to Verizon to get better coverage at her home.
Also, Apple and Verizon seem to be preparing for some lines:

Photo by
Snapcracklypop
A few
random tweets
indicate long lines are already forming in some locations. If you are standing in line, send photos to
webmaster@macrumors.com
or post in the comment thread.