Class Action Lawsuit Filed Over iPhone 4 Glass Breakage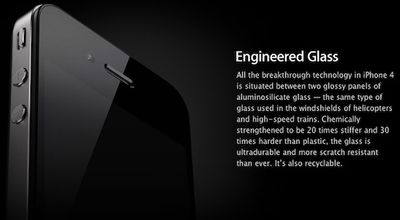 LA Weekly reports
(
via The Next Web
) that a class action lawsuit has been filed against Apple over the iPhone 4 and its claimed propensity for breakage. The lawsuit feeds off the "Glassgate" publicity that has seen the iPhone 4 judged to be
more accident-prone
than other smartphones due to Apple's use of glass on both the front and back of the device.
Apparently fed up and pissed off, California resident Donald LeBuhn filed a class action lawsuit earlier this week in L.A. County against Apple, claiming the company knows about the design flaw and refuses to warn consumers that "normal" use leads essentially to a broken phone.
According to his lawsuit, first reported by Courthouse News Service, LeBuhn threw down $252 in September for a new iPhone 4, but three weeks later the glass broke when his daughter accidentally dropped it approximately three feet to the ground while sending a text message.
He previously owned a 3GS version of the iPhone and claims the glass did not break when accidentally dropped from similar heights.
In his filing, LeBuhn cites Apple marketing materials for the iPhone 4, which claim that the "ultradurable" glass used in the iPhone 4 is "20 times stiffer and 30 times harder than plastic". According to LeBuhn, these claims are misleading at best, and his suit seeks full refunds for customers covered by the class action suit and reimbursement for any repairs made.