iPhone 4 More Prone to Accidental Damage Than 3GS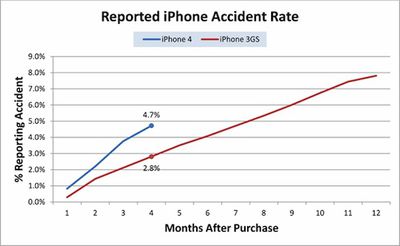 Consumer electronics warranty firm SquareTrade today
released the results
of a study it has performed comparing accident rates for the iPhone 4 with those of the iPhone 3GS in the early months of ownership. According to the study, which is based on SquareTrade's extensive customer base, the iPhone 4 is generating an accident rate 68% higher than that of its predecessor.
Our data shows that iPhone 4 owners are reporting accidents 68% more frequently than iPhone 3gs owners. 4.7% of iPhone 4 owners reported an accident to SquareTrade in the first 4 months of ownership, almost 70% higher than iPhone 3gs owners, 2.8% of whom had an accident over the same time period.


When looking at cracked glass, which is responsible for about 80% of all warranty claims through the service, the gap increases to 82%, presumably due to the iPhone 4's use of glass on both front and back surfaces as opposed to the front-only glass of the iPhone 3GS. The iPhone 4's glass back has been
rumored
to be a source of concern for Apple, with some customers reporting that dirt trapped between the glass and slide-on cases has caused scratching and shattering of the glass back.
Multiplying the accident rate with the cracked screen distribution, we find that 3.9% of iPhone 4 owners reported a cracked screen within 4 months, as opposed to just 2.1% of iPhone 3gs owners.
While our data doesn't identify which broken screens resulted from dirt trapped behind a slide case, at least a quarter of the broken glass claims involved the back screen. With 82% more cracked screens reported, the evidence suggests that the iPhone 4 is more vulnerable to physical damage than its predecessor.
Despite the apparent propensity for accidental damage, SquareTrade's data for non-accident related incidents of "normal" failure shows the iPhone 4 and iPhone 3GS demonstrating similar rates of under 0.5%, which compare favorably to other handsets on the market.