Feral Interactive Creates Mac App Store Splash: 'BioShock', 'Borderlands', and More
Popular gaming firm Feral Interactive made a brief debut on the Mac App Store at the marketplace's launch earlier this month, offering its LEGO Harry Potter title for a very brief time before pulling the application, apparently due to issues with file corruption possibly related to the large download size. But Feral is now back in the Mac App Store in a big way: Besides restoring LEGO Harry Potter Years 1-4 to the store, the company has also rolled out three other titles, including BioShock, Borderlands, and Rome: Total War.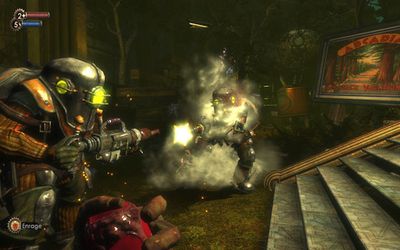 BioShock
BioShock
, the popular first-persion shooter game that originally debuted for Mac in late 2007, has been ranked among the top gaming titles of the last few years by numerous outlets. The game is priced at $39.99 on the Mac App Store.
Set in an alternate 1960, BioShock places you in the middle of an underwater utopia gone badly wrong. With a provocative and intelligent storyline, this is a game that is alternately beautiful, thrilling, funny, frightening and always involving. An experience that makes you think while you play.
Borderlands, another science fiction-themed first-person shooter, was only released on the Mac platform last month, coming in a "Game of the Year" edition with bonus content included. That expanded edition is now also available through the Mac App Store, priced at $49.99.
Finally, Feral has released Rome: Total War ($29.99), a strategy game available in a "Gold Edition" that also includes the Barbarian Invasion expansion pack for the original game. And of course LEGO Harry Potter Years 1-4 is now back in the Mac App Store at the same $49.99 price point at which it originally appeared.
Feral is not the only big-name Mac game developer to start bringing its titles to the Mac App Store, as Aspyr Media earlier this month launched Call of Duty 4: Modern Warfare and Civilization IV: Colonization, the first of what is expected to a significant number of Aspyr titles to make their way to the Mac App Store.