Twitter for Mac (formerly Tweetie) to Launch with Mac App Store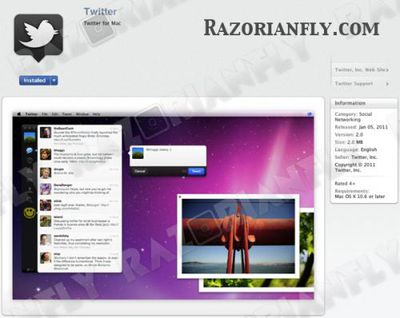 RazorianFly
has outed a screenshot of the Mac App Store which shows an official Mac twitter client.
Were pleased to announce we have an exclusive look at the next version of Tweetie (Twitter) for Mac, version 2.0. While we cant go into too much detail, just know that Twitter for Mac version 2.0 will launch with the Mac App Store, tomorrow.
The release should look familiar to fans of Atebits's Tweetie for Mac. The future of Tweetie had been in question after Twitter acquired the developer back in May. The primary reason for the acquisition had been for Tweetie for iPhone, but it seems they have now rebranded Tweetie as the official Twitter client for Mac.
The Mac App Store is expected to launch at noon eastern on Thursday, Jan 6th.