Twitter for iPhone Now Available in App Store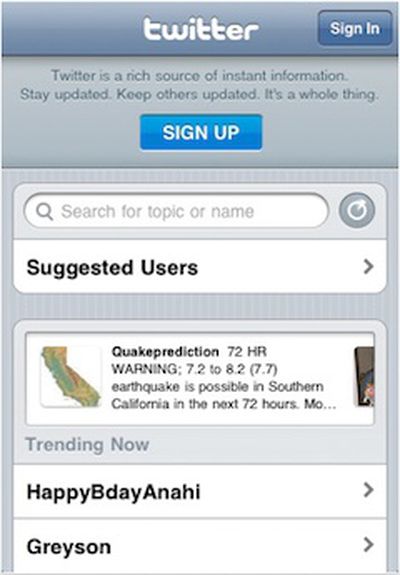 As
hinted at
by yesterday's disappearance of
Tweetie 2
from the App Store, the rebranded official
Twitter iPhone application
[
App Store
, Free] has now been released.
In addition to the rebranding, Twitter brings several enhancements over the previous version of Tweetie:
- Tweetie is now Twitter! We didn't just do a name change, we've added a bunch of new stuff.
- Search has been reorganized, now you can search all tweets and find users in the same spot, view Top Tweets and Browse Suggested users.
- Search results now include Top Tweets, try it with Trends...winner combo!
- You can now use Twitter without an account! Search, Browse uses, view trends and top tweets.
- Sign-up is now available within the application as well, complete with Suggested user list.
- More tab has been reorganized to accomplish all this. Users with one account can add a second account under the Accounts and Settings button here.
- Actions we've found people use most, like Retweet have been moved to the main actions bar.
- Minor tweaks were made to tweet rendering so they match Twitter.com tweets.
Twitter last month acquired Tweetie with the intention of adopting the popular platform as its own free iPhone application. For the time being, Twitter does not offer an iPad-specific version of the application, although it seems logical that the company might pursue development of either a universal Twitter application or a dedicated iPad version that could take advantage of the significantly greater screen real estate available on Apple's tablet device.