Subsidized iPad Sales Off to Slow Start in UK?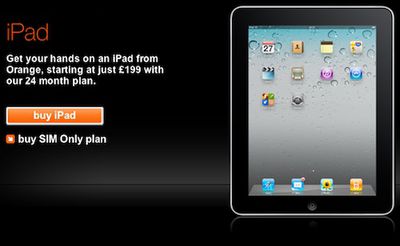 Early last month, UK carriers Orange, T-Mobile, and Three debuted
subsidized iPads
, knocking the price of the entry-level Wi-Fi + 3G iPad model from £529 down to £199 for those customers willing to sign up for two-year data contracts in the range of £25 per month.
While the offerings obviously result in a substantial outlay for customers, it was thought that they would be enticing for customers who had planned on maintaining ongoing cellular data service for their devices instead of opting for only sporadic service on an as-needed basis.
But according to a new report from The Times as relayed by paidContent:UK, sales of the subsidized iPads are coming in far lower than had been expected, at least for Orange.
The company had expected to sell tens of thousands of iPads over the holidays, at a reduced price of £199 ($308) when the buyer took out a 24-month contract on the device. But according to industry sources, it has gotten off to a slow start: selling only 1,000 in its first week of sales.
The report notes that a recent research report suggested that 80% of UK iPad customers were opting for 3G-capable models in the lead-up to the holiday season, offering a significant pool of potential buyers for the subsidized offerings. But obviously either the prospect of a two-year contract was too daunting for customers unsure how much cellular data they would be using on their devices or Orange (and possibly the other UK carriers) failed to appropriately bring the offerings to the attention of customers who might have been interested in the packages.