Several months ago, we noted that major GPS company Garmin was considering developing iOS applications after abandoning its partnership with ASUS to produce Garmin-branded phones, and it now appears that Garmin has followed through on those plans.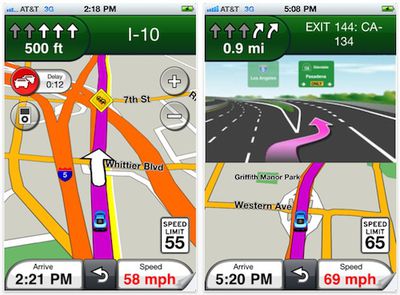 Garmin today
announced
a number of new standalone GPS products and iOS and Android applications, with the most prominent of those applications being
Garmin StreetPilot
[
App Store
, $39.99] for the iPhone.
The StreetPilot App includes many of the same high-end features available on Garmin's standalone automotive GPS devices like free traffic alerts that enable drivers to steer clear of traffic accidents, road closures and construction; lane assist with junction view that directs drivers to the preferred lane and displays realistic images of upcoming complex junctions; and speed limit indicators that display speed limits for most major roads.
Garmin StreetPilot also supports multitasking under iOS 4 and integrates with users' music libraries and address books.
Unlike some of the other mainstream GPS applications for the iPhone, Garmin StreetPilot downloads map content as needed, as opposed to storing the entire map database within the application. While the decision allows Garmin to offer smaller downloads that require less on-device storage and quicker download and syncing times, as well as automatic access to the latest map updates, the trade-off is that users must be in areas with data service coverage in order for the application to function properly.