Developers Setting Expectations Ahead of Mac App Store Launch
With Apple's Mac App Store set to debut in just two days, developers are beginning to set expectations for their applications, particularly in comparison to their other applications already available through the iOS App Store. On his blog The Pocket Cyclone, developer Markus Nigrin shares the results of a discussion he recently held with several other prominent iOS App Store developers moving their apps to the Mac App Store in the first wave of releases.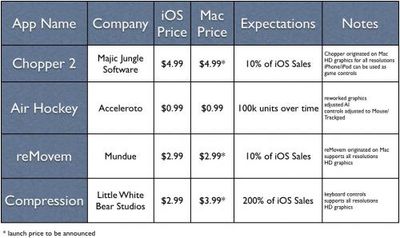 For the most part, Nigrin's results show that iOS developers moving their apps to the Mac App Store are looking to maintain their existing price points, which frequently fall in the $1.99-$4.99 price range.
Why does a 1:1 adoption of the price on the Mac seem so natural for iOS devs?
For once, Apple made the code re-use for a native Mac app very straightforward. Every dev I talked to mentioned porting times of less than four weeks. Which were mostly spent on all types of adjustments, like keyboard and HD support. Also, graphical assets for mobile games are typically originated at a much higher resolution anyway, as everybody in the iOS world needs to prepare for a foreseeable future of HD displays. The point is, if you already have the assets and re-creating a native Mac app is relatively low-cost, there is no immediate pressure to go with another pricing model on this platform, if the reward could be an early (chart) success.
As far as expectations for sales units go, developers seem to be split, with several of the surveyed developers offering conservative estimates of only 10% of that seen for the corresponding iOS titles, while others have pushed their expectations to as high as double that seen on the iOS platform. Sales splits between iOS and Mac versions will obviously vary based on a wide range of criteria, including the usefulness of certain types of apps on the two platforms and the overall user experience, where some apps may see more benefit than others in either the portable multi-touch environment of iOS or the larger-screen, pointer-driven Mac environment.