Skype Video Calling Coming to iPhone?
Popular VoIP service Skype has had an iPhone application since early 2009, but the company has yet to roll out video calling for the iPhone or other mobile platforms.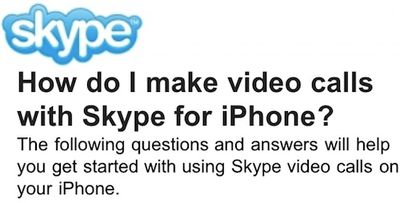 But as
noted by Engadget
, a number of clues are lining up to suggest that the company will announce video calling support for the iPhone and iPod touch at CES 2011 early next month.
Skype has been telling everyone that it'll be making a "series of video-related announcements" at CES next month... and it's participating in a panel called "Video Calling Gets Ready for Primetime," so yeah, needless to say, we'd have to guess that Skype's finally getting ready to enter the mobile video calling game in a big way. Anyhow, the final piece in the puzzle filtered into our inbox this morning: a help document on Skype's site detailing making video calls using Skype for iPhone.
The help document, available through the online help portion of the Skype iPhone application, curiously notes that users of a number of iPhone, iPod touch, and iPad models can use video calling despite the fact that not all of these devices are camera-enabled.
To make video calls with your contacts, you will need an iPhone 4, iPhone 3GS, 3rd generation iPod touch, 4th generation iPod touch or an iPad. Your contacts will only be able to see you if your device has a camera. Make sure your device is running iOS 4.0 or above and that you are using Skype for iPhone 3.0 or above.
While the help document notes that Skype for iPhone 3.0 is required for video calling, the current version of Skype for iPhone is only 2.1.2.