'Tron Legacy' to Premiere as First iAd for iPad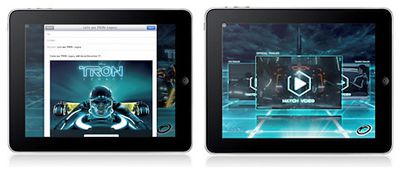 Ad Age reports
that the first iAd for the iPad will debut today in the form of an advertisement for the Disney film "Tron Legacy" premiering in theaters this weekend. According to the report, it is the only iPad-specific iAd scheduled for release before the end of the year.
The format, designed to maximize the ad potential of Apple's tablet computer, will be launched widely in early 2011 when other ads start flowing onto the platform.
Like its iPhone and iPod Touch predecessors, the first iPad iAd is chock-full of the rich graphics, touch navigation and video native to apps. The full-screen "Tron" ad, which will run in iPad apps such as TV Guide, includes close to 10 minutes of video, images from the movie, a theater locator with showtimes, and a preview of the movie soundtrack with the option to purchase on iTunes without leaving the ad. For the first time in any iAd, users will also be able to send email straight from within the ad.
Apple brought iAd compatibility to the iPad with the release of iOS 4.2 late last month, but production of the ads, which remains under the tight control of Apple, has taken some time to bring iPad-specific ads to market.
Apple CEO Steve Jobs has been Disney's largest individual shareholder since the media and entertainment company acquired animation studio Pixar in 2006. Jobs holds a seat on Disney's board of directors, and Apple and Disney have worked closely together in the past, likely smoothing the way for "Tron Legacy" to serve as the debut iAd for iPad.