No In App Purchases or Game Center for Mac App Store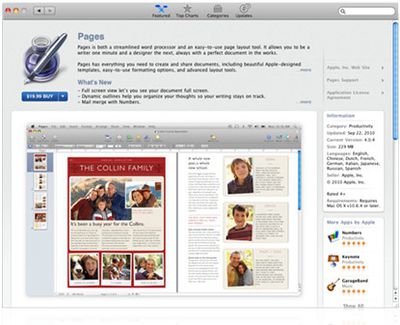 Apple yesterday
announced
the publication of an updated version of its
iTunes Connect Developer Guide (PDF)
, offering new information on policies and procedures for developers looking to have their applications featured in Apple's iOS App Store and forthcoming Mac App Store.
A number of details about the features supported (or not supported) for Mac App Store applications have surfaced in recent weeks, including a lack of support for demo and trial versions or promo codes, and as noted by 9 to 5 Mac, the new iTunes Connect Developer Guide further reveals that such iOS features as in app purchases and Game Center are not supported for Mac App Store applications. The guide also notes that customer reviews for Mac App Store apps are not available "at this time", although that distinction may simply be because the store has not yet opened for business.
While Apple could eventually choose to add support for these features in the Mac App Store, they do not appear to be making the cut for the store's debut, which is reportedly still on track for next month. Consequently, it is unknown whether Apple is limiting the features because it has no intention of ever supporting them or if it simply is choosing to prioritize the initial offerings in order to get the Mac App Store up and running as quickly as possible.