Desktop Version of Google Docs Now iPad-Compatible
Just a few weeks ago, Google announced the launch of Google Docs editing on the iPad and Android platforms via a lightweight mobile interface. Google had previewed the feature a few months earlier, and users had been anticipating the release as another reason to turn to the free web-based productivity platform.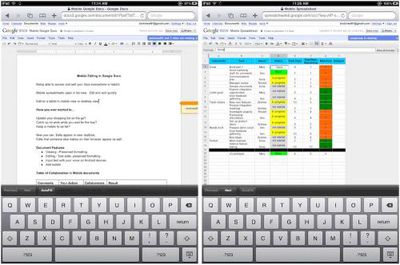 But while the mobile version of Google Docs offered a fair number of tools for editing documents, it didn't offer the full complement of options available through the desktop version of Google Docs. That changed yesterday with Google's
announcement
that the desktop version of Google Docs is now compatible with the iPad, allowing for additional editing capabilities when needed.
The new mobile editor is fast and lightweight, but sometimes you want to make more style edits like changing a font, or center aligning a paragraph. If you're on an iPad, you can do that by visiting the Desktop version of the document editor.
As noted in the announcement, Google views the mobile version of Google Docs as being the primary vehicle for documenting editing given its optimization for working on lower-powered mobile hardware, but the new iPad compatibility for the desktop version gives users the option for "one-off times" requiring more advanced edits.
Unfortunately, TUAW points out that the desktop Google Docs doesn't function perfectly on the iPad, with some features still being unsupported and some quirky behaviors that may frustrate users.