Apple Promoting iTunes Movie Rentals With Free Codes?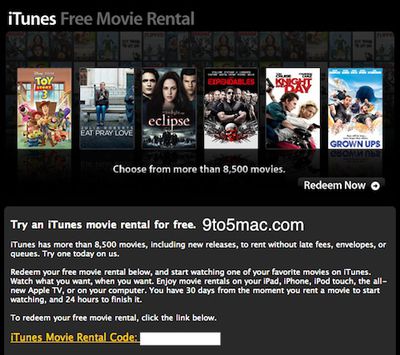 9 to 5 Mac reports
that it has received word that Apple appears to be sending out emails to select customers offering them free iTunes movie rentals.
iTunes has more than 8,500 movies, including new releases, to rent without late fees, envelopes, or queues. Try one today on us.
Redeem your free movie rental below, and start watching one of your favorite movies on iTunes. Watch what you want, when you want. Enjoy movie rentals on your iPad, iPhone, iPod touch, the all-new Apple TV, or on your computer. You have 30 days from the moment you rent a movie to start watching, and 24 hours to finish it.
The free rentals appear to be limited to the United States, and it is unclear how Apple is selecting users to receive the offers.
Apple launched iTunes movie rentals in January 2008, but has been pushing the rental model in recent months with the introduction of the new streaming-only Apple TV and TV show rentals in September.