Apple's Predicted Share of 2010 U.S. Mobile Advertising Market Slashed to Under 10% [Updated]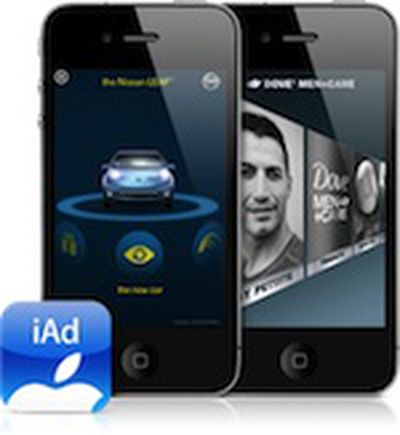 In a stark reversal from projections made just over two months ago, Bloomberg Businessweek reports that new predictions from research firm IDC peg Google as taking a whopping 59% share of the U.S. mobile advertising market for 2010 while Apple is expected to garner only 8.4% of the U.S. market with its own iAd program. IDC's earlier report had projected that Apple and Google would finish the year neck-and-neck, with each holding about 21% of the market.
The sudden change appears to come, however, not from Apple grossly underperforming earlier expectations but from IDC grossly underestimating the total size of the U.S. mobile advertising market and Google's share of it. The earlier report had cited a total market size of under $250 million for 2009, while the new report claims that 2009 saw a market of $368 million.
Earlier this year, IDC projected Google would lose market share this year. It revised estimates after Google's October announcement. "Google is a lot bigger than we thought," Weide says. "We rectified that, based on the numbers they provided in their last earnings call."
Those underestimations have led to a dramatic upward revision in Google's market share numbers for 2009 and 2010, with all of its competitors, including Apple, seeing corresponding significant decreases in their market share numbers. IDC's September report claimed that Google held a 27% share in 2009 when including data for AdMob, which it acquired late in the year, but the firm's new report claims that Google held 48.6% of the market on its own in 2009, with AdMob holding an additional 8.4% share for a total of 57% of the expanded market.
The revised projections for Apple show the company holding 8.4% of the market for 2010, good for second place in an industry it hadn't even entered in 2009. Quattro Wireless, which was acquired by Apple right around the beginning of 2010, held 5.4% of the market in 2009.
Apple is continuing to expand its iAd program, pushing out worldwide delivery of ads early last month and following that up with announcements that it would be adding programs for advertisers in Japan and Europe this month and early next year.
Update: A new report from Business Insider sheds some additional light on the discrepancies between the two reports. The September Bloomberg Businessweek article appears to have only been addressing mobile display ads and not the total market, which includes both display ads and search-based ads. As shown in the new Business Insider article, Google and Apple are still projected to be neck-and-neck in display ads for 2010, with Google projected to grab 19.0% of the market while Apple takes 18.8%.
The Bloomberg Businessweek report from last week encompassed the total display and search market without making a distinction from its September report, and with Google's dominance in search-based ads (91.4%), the company still holds a wide lead in the overall U.S. mobile advertising market.