Verizon's 4G Network to Launch Next Week, No Handsets Until Mid-2011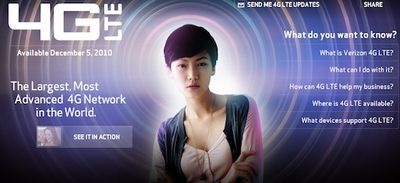 Verizon Wireless today
announced
that it will be launching the first large-scale
LTE (4G) cellular network
on Sunday, December 5th, bringing service to 38 metropolitan areas and 60 airports in the United States. The network is launching with only broadband data plans for USB modems, as handsets utilizing the technology are not expected until mid-2011.
Verizon Wireless customers can choose from two 4G LTE Mobile Broadband data plans: $50 monthly access for 5 GB monthly allowance or $80 monthly access for 10 GB monthly allowance, both with $10/GB overage. For laptop connectivity, two 4G LTE USB modems will be initially available: the LG VL600 is available at launch and the Pantech UML290 will be available soon, each $99.99 after $50 rebate with a new two-year agreement. Both USB modems provide backward-compatibility with Verizon Wireless' 3G network. If laptop users travel outside of a 4G LTE coverage area, they will automatically stay connected on the company's 3G network.
Multiple mainstream news sources have reported that Apple is set to release a Verizon-compatible version of the iPhone as early as January 2011, although that model is not expected to support Verizon's new 4G network. In fact, rumors have suggested that the next major revision to the iPhone, likely set for launch in June or July of next year, also will not support 4G. Such a move would follow the precedent set by Apple with the original iPhone, which did not offer 3G compatibility despite AT&T offering a 3G network at that time, with Apple opting to wait to adopt the technology until the following year when it had matured and availability expanded to more markets.
Rumors have also suggested that Verizon may be testing LTE-compatible iPads, although the information appears to be unconfirmed.
AT&T has been said to be on track to roll out its own 4G LTE network in mid-2011 as it continues to upgrade its 3G service to faster speeds to support current users and to serve as a fallback during the full roll-out of 4G service in the future.