iPad Closing in on Kindle in eReader Ownership
Research firm ChangeWave today released the results of a new survey of its audience of professionals and early-adopter consumers, showing that the iPad is quickly gaining ground on Amazon's Kindle in the eReader market, despite its different feature set and higher price point. According to the survey, the Kindle leads the iPad 47% to 32%, a dramatically smaller margin than the 62%-16% spread of just three months ago. Both devices dwarf Sony's Reader (5%) and Barnes & Noble's Nook (4%) in popularity.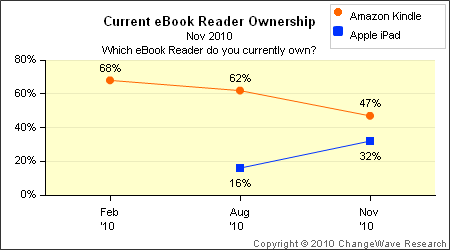 Based on the survey, Apple appears poised to continue to make gains on the Kindle, with 42% of respondents looking to purchase an eReader over the next 90 days planning to buy an iPad, while only 33% plan to purchase a Kindle.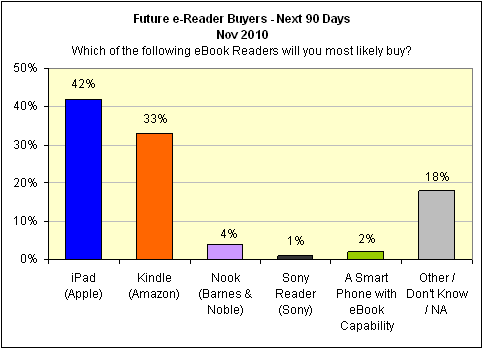 The iPad's strength is mirrored in its user satisfaction ratings, with 75% of iPad owners in the survey calling themselves "very satisfied" with their purchase, as opposed to 54% of Kindle owners registering with the same level of satisfaction. Finally, the survey found that while iPad owners are less likely to read eBooks than Kindle owners (76% vs. 93%), they are much more likely to consume other types of digital reading material such as newspapers, magazines, and blog and news feed content.