Official Google Voice Application Now Available in App Store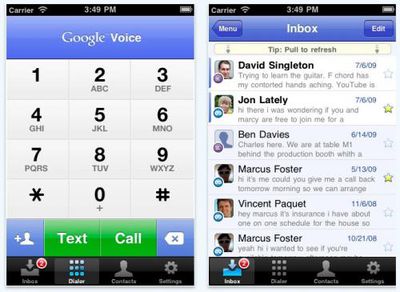 Google today
announced
that its official
Google Voice
[
App Store
] application for the iPhone is now available.
With this native app, you'll continue to have access to all the major Google Voice features on your iPhone, like:
- Cheap rates for international calls
- Free text messaging to U.S. numbers
- Voicemail transcription
- Display your Google Voice number as caller ID when making calls
In addition to these benefits, the app provides some features that make using Google Voice on your iPhone a much better experience:
- With push notifications, the app will alert you instantly when you receive a new voicemail or text message
- Most of your calls will be placed via Direct Access Numbers, making them connect just as quickly as regular phone calls
After Apple tweaked its review guidelines for the App Store back in September, it began accepting Google Voice-related applications, and the company reportedly approved the official Google application late that month, but it has not been available until today.
Google and Apple famously squared off over the Google Voice application, with Google claiming that Apple had rejected the application, citing duplication of the core functionality of the iPhone, while Apple claimed that it had merely not made a decision on the application, leaving it limbo for over a year.