Ping Comes to the iPad's iTunes Application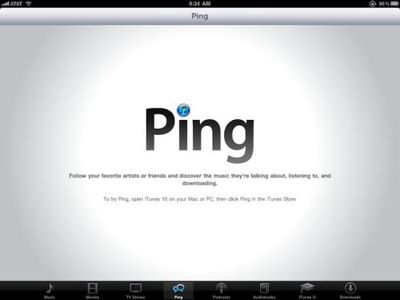 Over the weekend, Apple turned on access to its Ping social networking service via the iPad, adding a new tab within the iTunes application to allow users to quickly access the same functions available through the desktop and iPhone/iPod touch iTunes application.
Just like the iPhone version of Ping, the new iPad version offers three tabs, an "Activity" tab showing the latest posts from artists and friends the user has chosen to follow, a "People" tab to view and manage artists and friends following and being followed by the user, and a "My Profile" tab to show the user's own activity along with a link to a "Concerts" panel showing upcoming concerts from Ping artists in the user's area.
The new iPad functionality for Ping comes just days after Apple and Twitter teamed up to offer integration between their two social services, allowing Ping users to automatically Tweet their latest activity and integrating the display and previewing of iTunes Store content directly on Twitter.com.