Toshiba Introduces MacBook Air 'Blade-Type' SSDs to Mass Market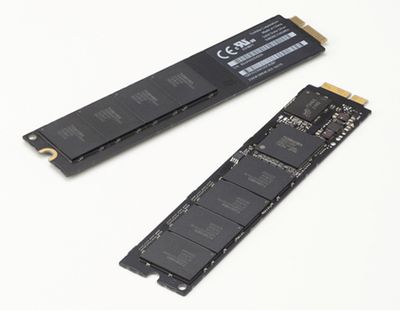 Toshiba announced
today the introduction of a "new form factor" in high capacity solid-state storage called the "Blade X-gale" series. MacRumors readers will recognize the small SSD sticks as the
same product
that is used in Apple's new MacBook Air. Toshiba supplies these parts to Apple and is now offering the product to the mass market.
Available now, the new drives are offered in capacities of 64-gigabyte (GB) (1), 128GB and 256GB, with a maximum sequential read speed of 220MB per second (MB/s) (2) and a maximum sequential write speed of 180MB/s. Ideally suited for integration into space-sensitive products, including tablet PCs, laptops, mini-mobile and netbook PCs, Toshiba's latest SSD offering helps these devices achieve a super slim profile.
Toshiba's SSDs come in the same three sizes that Apple presently offers (64GB, 128GB, and 256GB) and even shares the same part numbers indicating that these are the exact same product. This is good news for potential MacBook Air customers as it offers a potential upgrade path for the MacBook Air's SSD drive which only comes in specific combinations from Apple. For example, the 256GB SSD is not available in the 11" MacBook Air. We should note that we haven't yet been able to confirm that the 256GB part will actually fit into the 11" MacBook Air, as the 256GB part is slightly thicker than the 64GB and 128GB parts (3.7mm vs 2.2mm).
Another company has already announced their own replacement SSD part for the MacBook Air, and Toshiba's offerings should guarantee a healthy aftermarket for the part. No pricing has been announced for devices.