256GB SSD Upgrades for New MacBook Air Announced

Taiwanese company Photofast has
announced
the first 3rd party SSD storage upgrade kit for the new MacBook Air. (via
Engadget
) The new MacBook Air is the first Apple laptop to use a special SSD card rather than a traditional hard drive enclosure. While the new SSD storage card allows Apple to further reduce the size of the MacBook Air's enclosure, upgrade parts are less readily available. Photofast is the first of likely many vendors who will fill this void.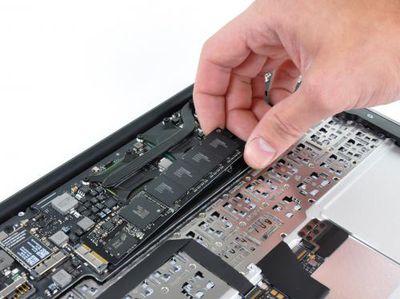 SSD card in MacBook Air from
iFixIt
Photofast plans on offering 64GB / 128GB / 256GB SSD aftermarket upgrades based on the SandForce controller. This gives 11.6" MacBook Air owners the option of upgrading to a maximum of 256GB -- a configuration not available from Apple. The upgrade promises speeds of 250MB/s for sequential reads and writes, a
notable increase
from Apple's offerings which bench around 150-160MB/s for the same metric. Overall performance improvements are said to be in the 30% range. In a particularly elegant twist, Photofast will allow you to convert your MacBook Air's existing SSD card into a USB storage device. This storage device then allows you to transfer your existing data over to your Mac.
Unfortunately, no pricing or availability has been announced, but we expect we'll see similar products from other companies in the near future.