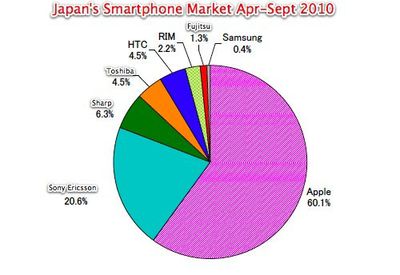 MobileCrunch reports
on a new report from Japanese research firm MMRI claiming that Apple held a 60% share of the Japanese smartphone market for the period of April through September, easily outdistancing second-place Sony Ericsson's 20.6% share.
According to MMRI, a total of 2.23 million smartphones (Android/Windows Mobile/Blackberry/iOS/Palm) were sold in Japan between April and September this year, and 1.34 million (or 60.1%) of those were iPhones.
The report notes that smartphone sales more than doubled over the year-ago period, despite the fact that overall mobile phone sales in Japan grew by only 12%. With smartphones now approaching 12% of Japan's overall smartphone sales, Apple's dominant position in that rapidly-growing smartphone market has enabled it to grab 7% of the total mobile phone market there.