Apple to Make All New Mac Shipments Adobe Flash-Free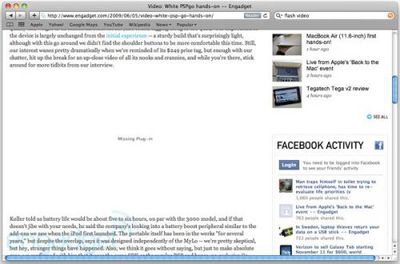 As we
previously noted
, Apple's new MacBook Air is shipping without Adobe's Flash plugin pre-installed, requiring users to manually install the software if they wish to view Flash content.
Engadget now reports
that Apple has issued an official statement on the matter, noting that it prefers that users download the software themselves in order to ensure that they are running the most up-to-date version.
We're happy to continue to support Flash on the Mac, and the best way for users to always have the most up to date and secure version is to download it directly from Adobe.
Apple spokesman Bill Evans also noted that the company is transitioning all of its Macs to ship without the Flash plugin pre-installed, although obviously plenty of units with Flash included remain in the company's distribution channels.
Apple has occasionally taken some flak for shipping outdated versions of Flash with its operating system updates and new hardware, and thus seems to believe that putting the onus of initial installation on the user will ensure that they receive the latest version and make Adobe responsible for alerting users to future updates.
The perspective is very similar to that shared by Steve Jobs just yesterday regarding the discontinuation of Apple's own Java distribution, in which he pointed to Apple always being "a version behind" the official releases from Sun/Oracle. By shifting the burden for updates back to Oracle, users can be sure to receive the most up-to-date versions.