AutoCAD for Mac Now Available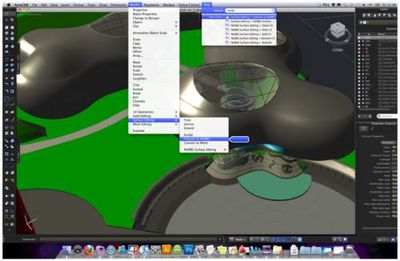 Autodesk today
announced
that its AutoCAD for Mac 2D and 3D design software is now available with a 30-day free trial for all users.
Officially announced
about six weeks ago, the release marks a return to the Mac platform for AutoCAD after a nearly two-decade hiatus.
AutoCAD for Mac has an intuitive interface that will feel familiar to Mac users and takes full advantage of Mac OS X, including graphical browsing of design files with Cover Flow and use of Multi-Touch gestures for pan and zoom on Mac notebooks, Magic Mouse and Magic Trackpad. With native creation and editing of files in the DWG file format, AutoCAD for Mac also supports easy collaboration with suppliers, customers, clients and partners regardless of platform. AutoCAD for Mac is also integrated with AutoCAD WS, so users can also upload and manage designs in their online workspace directly from the desktop and easily edit and share those designs through a web browser or Apple iOS devices using the free* AutoCAD WS mobile application.
The companion AutoCAD WS application for the iPad, iPhone, and iPod touch was released in late September and offers users the ability to view and work with AutoCAD DWG files.
AutoCAD for Mac targets professional users and carries a price tag on the order of $4,000, but the 30-day trial should offer many of these users ample opportunity to test drive the application before committing to purchasing the software. Autodesk also offers an educational licensing program which allows free access to AutoCAD for students using the application for personal educational purposes.