Motorola Files Suit Against Apple for Patent Infringement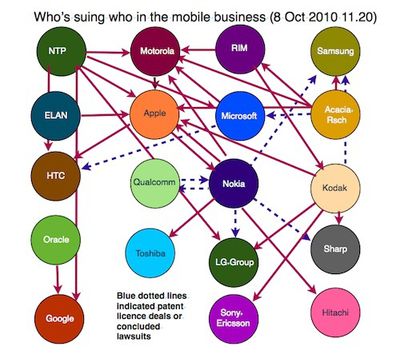 Flowchart slightly modified from The Guardian
(Note: Some suits depicted above have already been settled.)
The patent wars in the technology industry are heating up again, with Motorola today
announcing
that it has filed suit against Apple over alleged infringement of a number of patents by a broad range of Apple products, including the iPhone, iPad, "iTouch" (presumably iPod touch), and certain Mac computers.
Overall, Motorola Mobility's three complaints include 18 patents, which relate to early-stage innovations developed by Motorola in key technology areas found on many of Apple's core products and associated services, including MobileMe and the App Store. The Motorola patents include wireless communication technologies, such as WCDMA (3G), GPRS, 802.11 and antenna design, and key smartphone technologies including wireless email, proximity sensing, software application management, location-based services and multi-device synchronization.
In addition to the multiple lawsuits, Motorola has also filed complaints with the U.S. International Trade Commission, seeking to prevent importation and sale of the infringing products.
The suit comes just five days after Motorola found itself on the receiving end of a lawsuit from Microsoft over alleged patent infringement with its Android-based smartphones.