Dell's 7-Inch Tablet Coming Soon, 10-Inch Model Later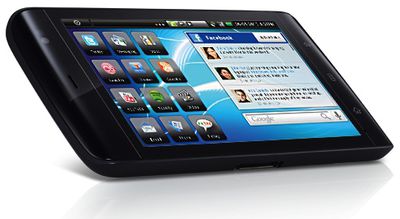 Dell's 5-inch Streak tablet
The Wall Street Journal reports
on an interview it conducted with Dell executive Amit Midha, who revealed that the company plans to launch a new 7-inch tablet device within "the next few weeks", with a 10-inch model set to follow in 6-12 months. The company also plans additional devices in the 3-inch and 4-inch range, all set to join the company's recently-launched
5-inch Streak tablet
.
He said Dell will launch "a whole slew" of new products in the next 6-12 months, including additional three-inch, four-inch and 10-inch devices.
"In fact, very much in the near future we'll be launching the seven-inch tablet as well as the additional three-inch product," he said.
According to Midha, Dell's 7-inch tablet will run Android, with other models planned to offer Microsoft Windows and the company considering whether to adopt Chrome OS as a third platform.
Coming on the heels of Research in Motion's introduction of its BlackBerry PlayBook tablet device earlier this week, Dell's plans reveal that high-profile companies are finally gearing up to compete head-to-head with Apple's iPad, which has essentially had free rein over the tablet market since its launch earlier this year. Most of the larger tablets from competitors are not set to launch, however, until sometime next year, meaning that they will be competing against the second-generation of the iPad rather than the current model, making feature comparisons somewhat difficult at this time.
With several announced tablet devices such as the BlackBerry PlayBook, the Samsung Galaxy Tab, and now Dell's new offering all set to come in with 7-inch displays, Apple's iPad appears set to continue to stand out in at least the size department for the time being. Apple has been rumored, however, to be preparing a 7-inch tablet of its own.