7-Inch iPad Resembling iPhone 4 Now a 'Finished Product'?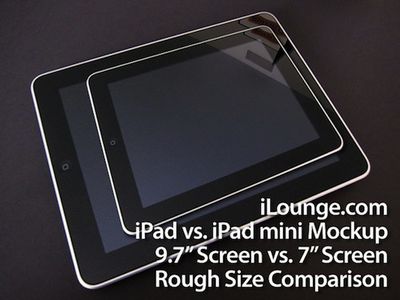 Previous mockup of 7-inch iPad based on current design
Chinese rumor site
Shanzai.com claims
(
via 9 to 5 Mac
) that Apple's rumored 7-inch iPad is a "finished product" and that its design much more closely resembles that of the iPhone 4 than the current iPad. The report also claims that Apple has been floating around at least five different designs in order to throw off those attempting to learn the details of the device.
Yes there will be a 7" tablet, yes it's well underway in terms of product development and in fact it's a finished product. Yes 5 plus different designs have been floating around to help Apple protect itself from people discovering its next product look and feel but... the final design will in fact bear more resemblance to the iPhone 4 stylings than the original iPad design.
Rumors of a 7-inch tablet from Apple predate even the iPad's introduction, but have obviously yet to come to fruition. Claims of a smaller iPad have continued to circulate in the months since, with the most recent set surfacing last month to claim that the smaller second-generation iPad might make an appearance in time for this year's holiday season.