Analyst Suggests 'Tablet Cannibalization' Responsible for Shrinking U.S. Notebook Retail Sales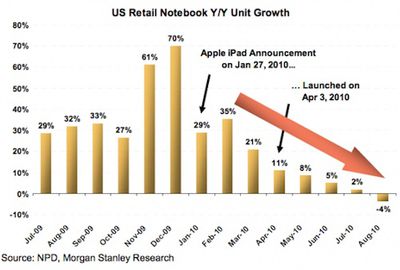 Close on the heels of
claims
from Best Buy CEO Brian Dunn regarding the iPad cannibalizing sales of notebooks at the electronics retail chain by "as much as 50%",
Fortune reports
on a new research note from Morgan Stanley's Katy Huberty offering visual evidence that notebook retail sales growth in the U.S. has not only slowed but reversed in August and early September. Huberty argues that "tablet cannibalization", obviously primarily driven by the iPad at this point, is responsible for the dramatic turnaround.
Her evidence:
- NPD data showing that after six months of decelerating growth, U.S. retail notebook unit growth fell 4% year over year in August, marking the first time those numbers had actually gone negative.
- Similar data for the first week of September showing that units fell 4% year over year again.
- BestBuy CEO Brian Dunn's widely repeated remarks in the Wall Street Journal that "internal estimates showed that the iPad had cannibalized sales from laptop PCs by as much as 50 percent."
Notebook sales had been enjoying booming sales growth due to expanding markets and an ongoing shift in consumer preference from desktops to notebooks. What had generally been a 30% year-over-year growth rate in the second half of 2009 and early 2010, with a spike to 70% growth around the holidays, has quickly tailed off in the months since Apple introduced the iPad in the U.S., finally turning negative in August with a 4% decline in year-over-year sales.
It is unclear, however, how a variety of factors may have combined to result in the trend seen in notebook retail sales. Fortune's report does not specify whether netbooks are included in the "notebook" sales numbers, and if not, they almost certainly represent another source of "cannibalization" of traditional notebooks. In addition, other factors such as protracted economic weakness, hardware and software release cycles, and potential market saturation in some areas could be considered for their possible contributions. But Huberty's take is that the iPad, along with newer and forthcoming tablet devices such as the Dell Streak and Samsung Galaxy Tab, will continue to "pressure" sales of traditional PCs.