Best Buy CEO Claims iPad Cannibalizing Notebook Sales By 'As Much As 50%' [Updated]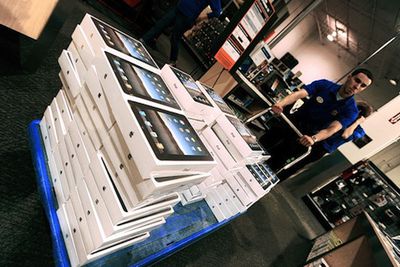 In an
article
in
The Wall Street Journal
earlier this week on the prevalence of gadgets over traditional computers and TVs for the upcoming holiday shopping season, Best Buy CEO Brian Dunn is quoted as saying that his company is seeing the iPad cannibalizing sales of traditional notebook PCs by "as much as 50%".
Best Buy said smartphone sales continued to rise compared with a year ago, as did portable computer totals, buoyed by the iPad.
However, television sales fell despite the rollout of new 3D models, with both average prices and total volumes notching "low-double digit" declines compared with last year. Mr. Dunn also said internal estimates showed that the iPad had cannibalized sales from laptop PCs by as much as 50%.
"It's a very different environment now," said Stephen Baker, the chief electronics analyst for market researcher NPD Group Inc. "The real cool stuff now will be the tablets, e-readers and probably the higher-end digital cameras."
Several reports in recent months have indicated that the iPad may be cannibalizing some notebook sales. But the degree to which Best Buy, a major retailer even if only a single data point, is seeing such cannibalization appears rather startling. Just days ago, Best Buy announced that it will be expanding in-store iPad sales to its entire network of nearly 1,100 U.S. stores and also increasing the variety of iPad accessories available for purchase as it seeks to ride the device's wave of popularity amid increasing supplies.
Analysts have long been interested in seeing whether the iPad cannibalizes Apple's other products. During the most recent quarter, however, Apple reported record Mac sales of 3.47 million while still pushing out 3.27 million iPads. During the conference call for that earnings release, Apple COO Tim Cook noted that with Apple's share of the computer market remaining relatively low despite strong growth over an extended period of time, the company would be happy to see some cannibalization, because there are "a lot of PCs out there" to be cannibalized.
Update: According to CNBC, Best Buy representatives are disputing The Wall Street Journal's claim regarding Dunn's comments:
Here's what Best Buy tells me: Dunn said there's some replacement of low-end netbooks by iPads, but Best Buy doesn't yet know how much.
"What Best Buy CEO Brian Dunn said was that we had no firm numbers, but that we speculated there was some replacement of netbooks by iPads going on," said spokeswoman Paula Baldwin. "We did not provide specifics because we do not presently have the hard numbers on which to base those specifics."
Update 2: Best Buy has released an official statement further clarifying Dunn's comments.