iPhone OS 3.2 Reveals References to New iPhone, iPod, and iPad Models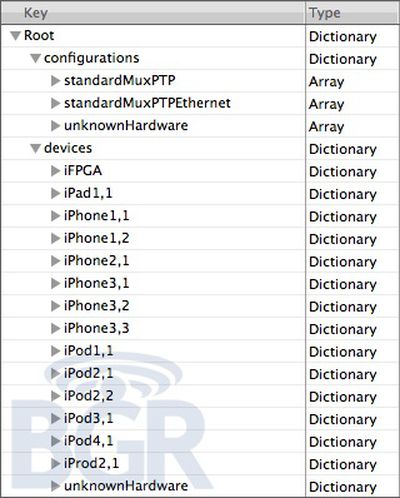 Boy Genius Report noted
over the weekend that Apple's new iPhone OS 3.2 released with the iPad contains references to four new iPhone OS devices. While the new listings, which appear to correspond to two new iPhones, an iPod touch, and an iPad, are not terribly surprising given Apple's product development timelines, they still provide reassurance of the company's future plans.
On the iPhone front, the iPhone OS 3.2 configuration file contains references to "iPhone3,2" and "iPhone3,3", two previously-undocumented iPhone devices. The iPhone 3GS currently carries the designation "iPhone2,1", and a successor "iPhone3,1" was discovered in a similar configuration file in March 2009. That device appears to have begun field testing last November and is expected to be released later this year. It is unknown how the newly-revelaled iPhone models relate to the "iPhone3,1" model currently in testing.
The current iPod touch carries a designation of "iPod3,1", and the new entry presumably refers to the next-generation model set for launch in the September timeframe if previous releases are any indication.
The first "iProd" entry showed up in March 2009 as "iProd0,1", which appeared to designate a prototype device. A new "iProd1,1" entry showed up last August that, as many had assumed, did turn out to be the iPad. While the listing has since been updated to be called "iPad1,1", the new "iProd2,1" listing is of course being considered as a possible next-generation iPad.