Parallels Desktop 6 Now Available With Remote Access for iOS Devices, VMware Offers Discount
Following on
last week's announcement
,
Parallels Desktop 6 for Mac
launched today with a number of new features and refinements for users looking to run alternative operating systems in virtual environments on their Macs. As
summarized
on Parallels' site, the update brings enhancements to gaming and graphics, simpler setup and integration, greater manageability and mobility, and better performance.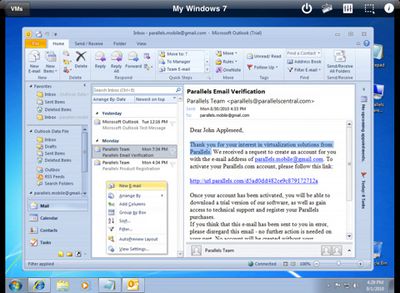 Parallels Mobile
Beyond improvements to the standard Parallels Desktop application for Mac OS X, the company has also released a new, free iOS application,
Parallels Mobile
, bringing
remote access
on the iPad, iPhone, and iPod touch to users running the desktop software.
Parallels Mobile lets you:
* access any virtual machine running in Parallels Desktop 6 for Mac
* use any Windows application in your virtual machine, from Internet Explorer to Outlook
* remotely start, stop and reset virtual machines
* stay connected via WiFi or 3G networks
* access your Windows applications from anywhere over the Internet
* optimize for either speed or graphics performance.
Parallels Desktop 6 for Mac is priced at $79.99 for an electronic download, with upgrade pricing of $49.99 available for existing users of Parallels 4 and 5. Users of Parallels 2.5 and 3, which are no longer being supported by the company, are also eligible for upgrade pricing for the next 30 days.
Parallels is also offering its Switch to Mac version with additional tools for customers new to the Mac platform, priced at $99.99.


VMware, the primary competitor of Parallels in the consumer operating system virtualization market, has
responded
with an offer allowing users of any version of Parallels to switch to VMware 3 for only $9.99. Users of VMware Fusion 1 and 2 are also eligible for the discounted upgrade pricing, and the offer is valid through December 31st, 2010. Meanwhile brand new customers are offered
30% off
of the retail price.
Note: VMWare and Parallels are both affiliate partners so sales from these links support this site financially