Apple Rolls Out 'Express Lane' for Customized Product Support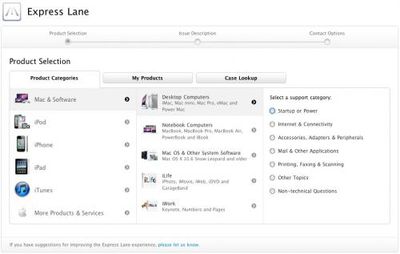 As
noted by The Next Web
, Apple has launched a new feature known as
Express Lane
on its support website, offering users a faster way to document issues with their Apple products and reach appropriate support solutions and personnel.
Express Lane is really 3 sections of support, rolled into one neat package. You can search by Apple product, search your own products (that you've registered) or look up cases that you've submitted previously.
The process, it seems, streamlines what you would normally have to do in order to find support answers for your devices. Clicking through, the My Products section is really handy and includes all devices you've registered along with the respective serial numbers.
Express Lane allows users to drill down to find support documents specifically related to their issues, along with contact options. Users are required to enter their hardware serial numbers for certain symptoms to help gauge warranty status and direct users to the proper support channels.